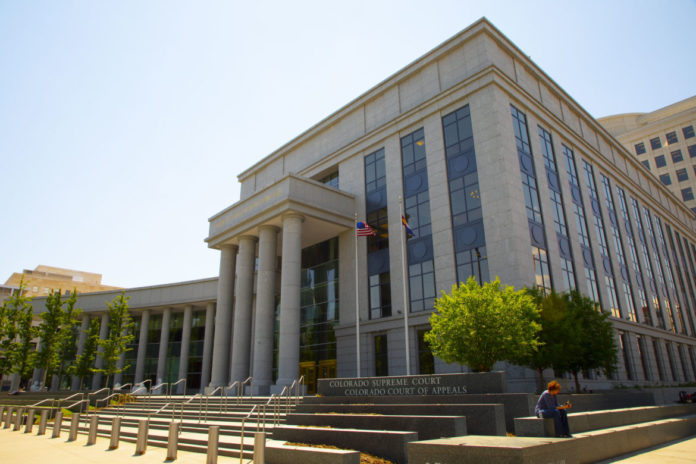 The Colorado Supreme Court on Tuesday delivered opinions in a pair of divorce disputes that have raised concerns among family law attorneys. 
Under Colorado's Uniform Dissolution of Marriage Act, property acquired by either spouse during a marriage is generally considered marital property to be divided equitably during a divorce. There are a few exceptions to this rule, however, including property excluded from the marital estate by "valid agreement" by both parties. 
The high court clarified which types of agreements are "valid agreements" under the act's exception, concluding only those that comport with state laws on premarital and marital agreements meet the standard. But some attorneys say this could result in an inequity between spouses who can afford counsel and those who cannot.
IN RE MARRIAGE OF
ZANDER
John and Denise Zander each had separate retirement accounts when they married in 2001. They also received separate inheritances during the course of their 15-plus-year marriage. When they divorced in 2018, Denise argued the retirement accounts and inheritances should be excluded from the marital estate based on a 2007 oral agreement she had with John. John denied entering into the agreement and argued that such an agreement, if it did exist, wouldn't be valid because it wasn't in writing and signed. 
The district court was convinced the former couple had an agreement based on amendments to their estate planning trust and a 2014 email from John to his son from another marriage. The lower court sided with Denise, finding the agreement didn't need to be signed or in writing and excluded the retirement accounts and inheritances from the marital estate. 
John appealed, arguing that while oral agreements may be allowed under general contract principles, the 1986 enactment of the Colorado Marital Agreement Act, which governed pre- and post-nuptial agreements at the time of the couple's purported pact, displaced common law contract principles. The CMAA permitted only agreements written and signed prior to filing for divorce or separation. 
The Colorado Court of Appeals agreed with John, finding that though the UDMA doesn't specify a "valid agreement" must be in writing, the CMAA's requirement of a signed, written agreement "prevails over the general UDMA provision." 
The Colorado Supreme Court, in an opinion authored by Justice Carlos Samour, agreed with the Court of Appeals' reasoning.
"There is an old saying that 'a verbal contract isn't worth the paper it's written on.'" Samour wrote. "Of course, some oral contracts are enforceable under the law. But, despite its shortcomings, the saying accurately captures the notion that a party seeking to enforce an oral agreement may have to swim upstream. This marriage dissolution case illustrates the point."
The high court found the agreement was not valid because it was not in writing and signed. It also concluded that, contrary to the trial court's ruling, the ex-spouses' conduct, such as their amendments to exclude their retirement accounts from their trust, could not be considered a partial performance exception to the CMAA's written contract requirements.
In addition, the Supreme Court noted it found no conflict between the UDMA's "valid agreement" stipulation and the more specific requirements of the CMAA and the Uniform Premarital and Marital Agreements Act, which replaced the CMAA in 2014.
IN RE MARRIAGE
OF BLAINE
Jack Blaine and Qing He ended a two-year marriage in 2018. During the course of their marriage, Blaine gave nearly $300,000 to He, who used it to buy a $1.1 million house in California. In order for He to obtain a mortgage, Blaine signed an interspousal transfer deed indicating the California house was to be He's "sole and separate property."
Upon divorcing, Blaine argued the money transfers were loans to be paid back, while He claimed the money was a gift. The trial court decided it was neither, concluding instead that the money was marital property. However, because the money had been used to buy the home, and Blaine had signed the deed conveying his interest in the home to his wife, the lower court ruled Blaine's interest in the home "was extinguished" and should be excluded from the marital property. 
Blaine appealed, arguing the home should not be excluded from the marital estate because the deed was not a "valid agreement" under the UDMA. A division of the Court of Appeals, like the district court, acknowledged the deed was not a "valid agreement." But the division, citing other Court of Appeals decisions, held that property can be excluded from a marital estate by a deed conveying the property from one spouse to another.
Blaine appealed to the Supreme Court, which agreed to review whether an interspousal transfer deed is an exception to the UDMA. The high court agreed with the Court of Appeals' conclusion that the deed is not a marital agreement under the UPMAA because it was not signed by both parties. But the Court of Appeals division erred in creating a new exception to the UDMA, said the Supreme Court, which held that a party may only overcome the marital property presumption through the four exceptions spelled out in the UDMA. 
The high court reversed and remanded the case for proceedings to determine whether the property falls under one of the UDMA's other exceptions, such as property acquired by gift or bequest.
BROADER IMPLICATIONS
"I think that the court made a good decision and the right decision," said Leigh Rosser, who represented John Zander, adding it was necessary to clarify the law and harmonize two statutes dealing with the same subject matter.
"I think it really also promotes judicial economy in the sense that by having clarity regarding what creates a valid marital agreement ultimately will cut down on litigation," Rosser said.
But others have raised concerns about the court's interpretation of what makes a valid marital agreement. The Colorado chapter of the American Academy of Matrimonial Lawyers filed amicus briefs in Zander and Blaine that argue limiting a "valid" agreement to those that comport with the CMAA and UPMAA's requirements could create inequities between spouses who can afford legal representation and those who cannot. 
"It is highly unlikely, as a practical matter, that parties who cannot afford counsel but who wish to convert marital property to separate property will possess the understanding necessary to create an agreement that meets the stringent formalities of the CMAA or the UPMAA," state the amicus briefs, which were prepared by Marie Moses and Patricia Cooper of Lass Moses Ramp & Cooper. 
These formalities go beyond just requiring a signature. To be valid under the UPMAA, a premarital or marital agreement must include a notice of waiver of rights informing parties that signing the agreement could mean signing away money or property or taking on debts or bills incurred by one's spouse. Additionally, an agreement is enforceable under the UPMAA only if both parties have access to independent legal representation and make financial disclosures or have adequate knowledge of each other's assets, liabilities and income. 
"It's really the low-income people that we've been concerned about that don't have the ability to spend thousands and thousands of dollars on attorneys to draft these agreements that comply with the marital agreement acts," Moses said. "But they do have good solid reasons within their marriage to want to make these arrangements."
People of modest means might want to exclude property from the marital estate due to issues with creditors or legal judgments against one spouse, Moses said. Cooper added that couples might want to exclude property as a way of strengthening their marriage if, for example, differences in spending styles have led to conflict in their relationship. 
Many couples, both rich and poor, don't realize what is required under the UPMAA, according to Cooper, and attorney fees add another hurdle for low-income spouses seeking an enforceable agreement. "I feel like it creates two different systems, and I think it really precludes a whole group of people from being able to do what people with money can do with their property," Cooper said.
Rosser said she appreciates the concerns raised in AAML Colorado's brief, but she agrees with the Supreme Court's conclusion in Zander that the policy concerns would best be addressed by the legislature, not case law. 
"I'm not sure that the interpretation [AAML Colorado was] asking for really benefits people with meager financial means, because if you interpret it the way that they want it to be interpreted, then what constitutes a valid marital agreement really becomes this fact-intensive inquiry that often can only be resolved by a judge through litigation," Rosser said.
As for what the decisions mean for family law attorneys, Rosser said, "I think it makes it abundantly clear to practitioners that if they have clients that are trying to enter these kinds of agreements about their property… they need to impress upon them the need to strictly comply." 
—Jessica Folker