The Colorado Supreme Court had a big year. The court released about 75 opinions during the 2020-2021 term, all while navigating a pandemic, remote hearings, a new face on the bench and a scandal that rocked the judicial branch. Attorneys talked to Law Week about the biggest decisions, trends and developments.
In addition to issuing opinions in consequential cases, the Colorado Supreme Court played a key role in matters involving diversity, equity and professionalism in the legal profession this year. The 2020-2021 term also brought changes in the composition and dynamics of the bench.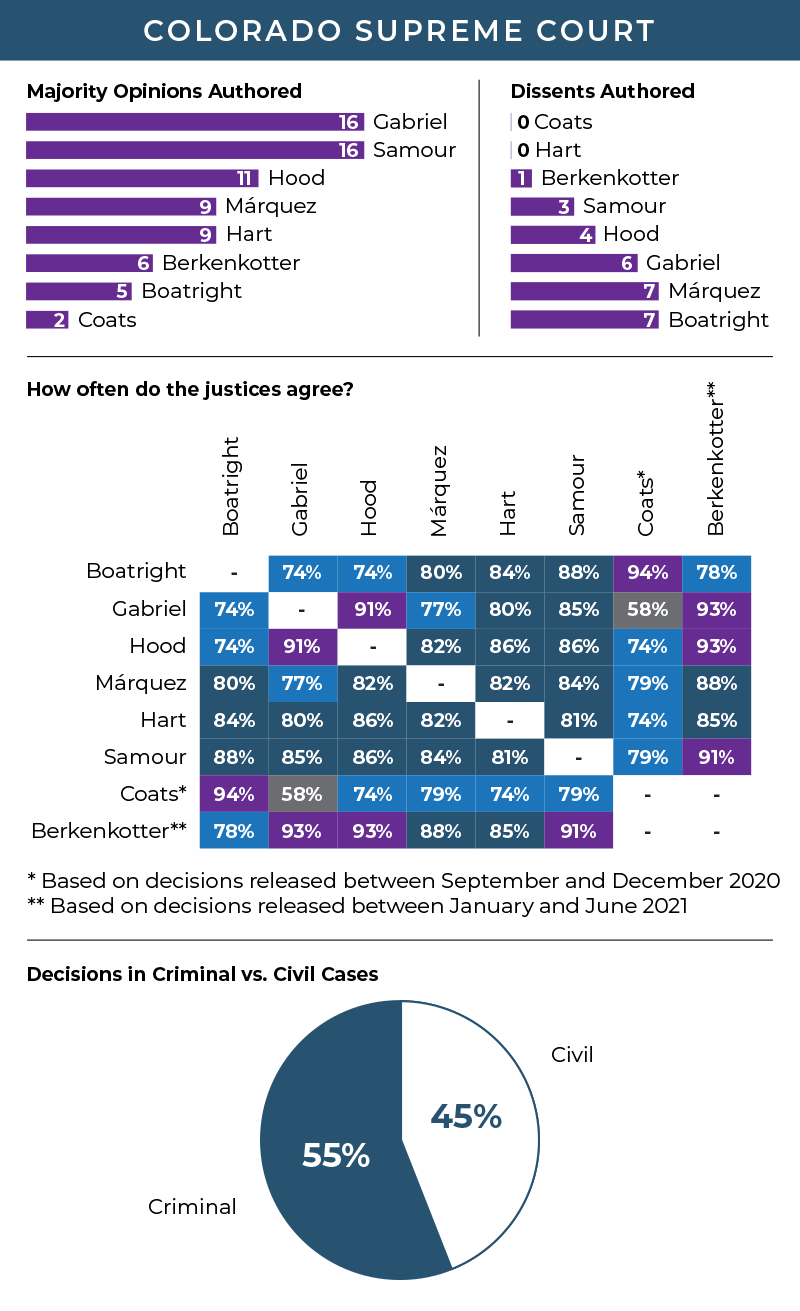 The Supreme Court in April amended the state's continuing legal education requirements to include two credit hours focused on equity, diversity and inclusivity. The rule change had wide support from affinity bar associations and other professional groups in the state, but it did face some opposition from attorneys who were concerned it would force "liberal" views on unwilling lawyers or provoke a politicized pushback.
Also in April, the court publicly censured former 18th Judicial District Court Judge Natalie Chase, who resigned after admitting to using racial slurs in front of court staff and stating that she believes "all lives matter" while wearing the robe and sitting on the bench. 
In June, the court affirmed a disciplinary hearing board's decision to sanction attorney Robert Abrams for using a homophobic slur in an email to a client. In doing so, the court rejected Abrams' argument that a Colorado professional ethics rule against biased language is unconstitutional.
While it wasn't the first time a Colorado judge was censured for using slurs or prejudiced speech, Chase's case made international headlines, in part because of the momentum of the Black Lives Matter movement. The disciplinary decision also coincided with a public scandal involving allegations of harassment and discrimination at the judicial branch.
The Denver Post in February reported that the judicial department had given a $2.5 million contract to a former department employee to stop a sex discrimination lawsuit. Days later, the Colorado Supreme Court released a memo detailing several alleged incidents of sexual harassment and judicial misconduct, including a judge who sent a pornographic video using an official email account, a judge who "rubbed his hairy chest" on a female employee, and a law clerk who accused a Court of Appeals judge of harassment and was later offered a release agreement to protect the judge. The Colorado Supreme Court has since authorized an independent investigation into the allegations.
Amid a tumultuous year, the high court welcomed a new justice. Justice Maria Berkenkotter joined the bench in January following the retirement of former Chief Justice Nathan Coats in December. Since then, Berkenkotter has authored six majority opinions and one dissent, most of them in criminal cases. But attorneys agree it's too soon to tell how Berkenkotter will change the dynamics of the bench.
"I think the conventional wisdom is that Justice Coats leaving removed one of the reliably quote-unquote 'conservative' votes on the court, and that Justice Berkenkotter … is less likely to be as conservative," said Chris Murray, a shareholder at Brownstein Hyatt Farber Schreck. But he added there have been surprises with other Supreme Court appointees.
"I think both Justice [Carlos] Samour and [Chief Justice Brian] Boatright turned out to be, in some ways, a little bit more conservative and a little bit more civil libertarian than maybe folks would have thought when they went onto the court," Murray said. "And that really didn't become apparent for a year-plus after their appointment."
Chris Jackson, a partner at Holland & Hart, echoed the sentiment. "I have heard from other attorneys, and they think that the court will move more to the left," he said. "Although I'm not sure about whether the court is really going to move that much in any direction."
Another change is the new system of shorter rotational terms for the chief justice seat. Boatright filled the position following Coats' retirement, and Justice Monica Márquez will succeed him.
"I think that is a significant shift," Jackson said. "Instead of having one person who can develop relationships and institutional memory, but also gets stuck in doing things a particular way, they've now switched to having a new person in that role every few years." 
<<PREVIOUS: Big Decisions: Notable Cases Run the Gamut from Divorce to DUIs