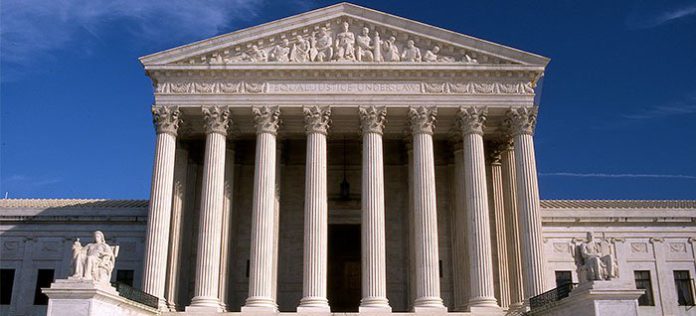 President Joe Biden has established a commission on the Supreme Court, opening up a pathway for formal debate about potential changes to the structure and operations of the country's highest court and the way the nation's chief executive makes appointments. The April 9 executive order does not ask for specific recommendations but does ask 36 members to analyze "the principal arguments in the contemporary public debate for and against Supreme Court reform, including an appraisal of the merits and legality of particular reform proposals."
The president's order does not provide any indication of specific reforms the panel should consider. According to a White House statement, Biden directed the members to study the "genesis of the reform debate," the Supreme Court's "role in the Constitutional system," "the length of service and turnover of justices," the membership and size of the" Supreme Court, and the Supreme Court's "case selection, rules, and practices."
"I think what Biden is trying to do is to create a set of facts that everybody can argue from," said Doug Spencer, distinguished faculty fellow at the University of Colorado Law School's Byron R. White Center for the Study of American Constitutional Law and a professor at the University of Connecticut School of Law. "Hopefully, people will agree, too, because all of the top legal minds in the country — conservative and liberal — [will] have kind of put their stamp of approval on it."
COURT EXPANSION
While Democratic members of Congress introduced a bill April 15 that would add four justices to the Supreme Court, how determinedly the commission will explore the idea of increasing the number of justices is not clear. Biden indicated during his 2020 campaign that he is skeptical of the notion of changing the court's size. He told an Iowa newspaper in July 2019 that he is "not prepared to go on and try to pack the court, because we'll live to rue that day."
Some of the members of the commission have also publicly said they would oppose such a proposal. Laurence Tribe, a longtime constitutional law scholar at Harvard Law School, told Washington Post columnist Jennifer Rubin in March 2019 that "partisan Court-expansion to negate the votes of justices whose views a party detests and whose legitimacy the party doubts could trigger a tit-for-tat spiral that would endanger the Supreme Court's vital role in stabilizing the national political and legal system." Bob Bauer, a professor of practice at New York University Law School and former President Barack Obama's White House counsel, wrote a July 2018 article in The Atlantic that criticized the idea of changing the court's size.
One nuance of the argument over the number of justices that might remain significant for the commission involves the court's representation of the American public. "To me, the diversity of viewpoints and experiences is the strongest argument to increase the size of the court," Spencer said. "It's really hard with nine people to represent the vast diversity that we have in the country. It's more narrow-minded than you think. We're talking about two law schools, we're talking about a very particular view about religion and its role."
Not only is there a homogeneity of educational backgrounds and, lately, religious viewpoints — the Supreme Court now includes six Catholics — but there is also a lack of experience diversity. "All of these judges used to be circuit court judges," Spencer said, overlooking that Justice Elena Kagan was never a judge before taking her seat on the Supreme Court. "Sandra Day O'Connor was, I think, the last person who had ever held a public office or gone through an election and tried to connect with people."
He suggested that, if expanding the number of justices is deemed out of bounds, the commission might consider a return to the tradition of the justices "riding circuit," pointing out that a requirement to do this would expose the Supreme Court's members to the impacts of their rulings and the reality of the American system of law and justice. "I do think that would benefit the court as an institution and it would benefit our country," he said.
PRESIDENTIAL INFLUENCE
Spencer said another avenue for the commission to address worries over the unbalanced ideological, ethnic, religious and experiential makeup of the court is by focusing on the development of a mechanism that could advance consensus on the question of how the president exercises the constitutional power to pick justices. "The biggest concern is that the appointment process is random and that the randomization of when somebody dies or retires or maybe even strategically retires while a certain president is in office isn't serving the country well," he said, explaining that the commission could suggest a system in which the president gets either one or two appointments per term. The concern about this idea, Spencer said, is that the court "might fluctuate, sometimes being nine, sometimes being 13."
To address that worry, a term limit might make more sense as a proposal for the commission to study. If such a cap on service were enacted into law, Spencer said, the result would likewise provide a reduction in the political heat around appointments of the justices and allow for a predictable and stable number of justices. If a limit of 18 years of active service, for example, was instituted, "what that means is that there will be somebody leaving the court every two years, which then gives the president an appointment every other year, which would be two times per term." Spencer predicted the commission would make this idea a "primary focus" and thinks Congress might be inclined to adopt it. "There's support for something like that," he said.
One significant practical obstacle to carrying out a potential suggestion of term limits, according to Sen. Bob Gardner, a longtime Republican state legislator and lawyer from Colorado Springs, is the life tenure granted to federal judges by the Constitution. "To make any change in that is going to probably require constitutional amendment," he said.
The notion of a mandatory retirement age might draw some commissioners' attention, Spencer said. Since 2016, two elderly justices have died while another left the court at age 81. President Barack Obama appointed Kagan in 2010 to replace Justice John Paul Stevens, who retired from the court at age 90, while President George W. Bush appointed Chief Justice John Roberts after then-80-year-old Chief Justice William Rehnquist died and Justice Samuel Alito after Justice Sandra Day O'Connor retired at age 75. In earlier periods of U.S. history, examples of justices who continued to exert the judicial power, even in situations where their physical and intellectual vigor decayed with old age, abound.
Whatever the merits of forcing judges to leave the bench before senescence, a common practice in other nations and in many state court systems, Spencer said he doubts the public would be enthusiastic about it. "I don't know that an age limit is going to be palatable," he said. "I think it will instantly be mocked because it will be promoted by the oldest president in American history and considered by a Congress where the average age is, I don't know, closer to 100 than I think it is closer to 50."
Yet other suggestions for Supreme Court reform — limiting the justices' control over the court's docket and imposing formal ethics rules on the justices — drew Spencer's cautious thumbs-up. "I think Congress has quite a bit of authority to dictate how it runs its operations," he said. "They have complete discretion over their docket and what cases they'll take and not take and that could change."
On the other hand, Spencer said, Congress should be solicitous of the court's role in the nation's constitutional separation of powers. "I'm really sensitive and empathetic with what Chief Justice Roberts is concerned about, which is the institutional legitimacy of the court," he said. "They don't have an army to wield, they don't have any money to spend. Their power ebbs and flows with people's views, and sometimes that's out of their control because sometimes it's manipulated."
Gardner said, that in any event, the nation's history and tradition indicates that the political branches of the government have little room to cabin the Supreme Court into a less expansive role than the justices deem compelled by the Constitution. "Marbury v. Madison created, in its own way, the power of the court that we have," he said, referring to the 1803 decision that established the principle of judicial review. "I can't see how, so long as the judicial branch decides what is and what isn't constitutional and similar and related federal questions, it's going to be any less powerful than it is."
As for ethical constraints, Spencer said that, unlike lower federal court judges, the justices get to decide for themselves whether to recuse themselves from cases and how to police their potential conflicts of interest. If the commission were to receive suggestions for requiring the justices to comply with them, Spencer said he thinks consideration and recommendation of those ideas would enhance and reinforce that public confidence. "It would benefit everybody if there were some systematic rules," such as those already binding federal magistrates, bankruptcy judges, district court judges and appeals court judges.
The Commission's Makeup
Whatever proposals and suggestions the commission does consider, they will be discussed by a membership dominated by law professors. Twenty-six of the 30 career legal academics chosen to sit on the panel are affiliated with high-ranking law schools, mostly on the east coast.
Also selected for the panel are Walter Dellinger, former Clinton administration solicitor general, partner at O'Melveny & Myers and a former Duke Law School professor; Nancy Gertner, a retired U.S. district judge and current Harvard Law School professor; Thomas Griffith, a former federal appeals court judge, Hunton Andrews Kurth special counsel and Harvard Law School lecturer; Sherilynn Ifill, president and director-counsel of the NAACP Legal Defense & Education Fund; and David Levi, a former federal district court judge and now-Duke Law School professor.
One political scientist will sit on the council. No elected officials, historians or lawyers who have spent their careers in private practice or state court judges were selected as members of the committee.
Spencer said he thinks the exclusion of historians is a mistake. "It seems like it was the perfect opportunity to include those voices," he said. "This is really a conversation about the structure of American government, distribution of power and elections." On the other hand, Spencer does not consider that having members from the ranks of practicing lawyers or state court judges is a crucial consideration. "I think those are the kinds of perspectives that belong in the testimony before the commission," he said. "The reason I say that is there's not a complaint that the court isn't functioning. If this were a commission to study the caseload of the court or its slow administration of justice, then I think we would [see] players who were kind of in there, watching the wheels turn."
Two members of the commission — University of San Diego law professor Michael Ramsey and University of California Berkeley Law School professor Bertrall Ross — represent the Western region of the country.
Most members of the panel appear to be generally sympathetic to mainstream Democratic policy and legal ideas. "There are certainly some conservatives on the commission, but I think it's predominantly liberal," Gardner said.
Bauer and Yale Law School professor Cristina Rodriguez will co-chair the commission, which was to meet for the first time on April 16, according to a report in the New York Times.
The Presidential Commission on the Supreme Court of the United States is at least the eighth major executive panel focused on the judiciary in the past 50 years, according to the Brookings Institution.