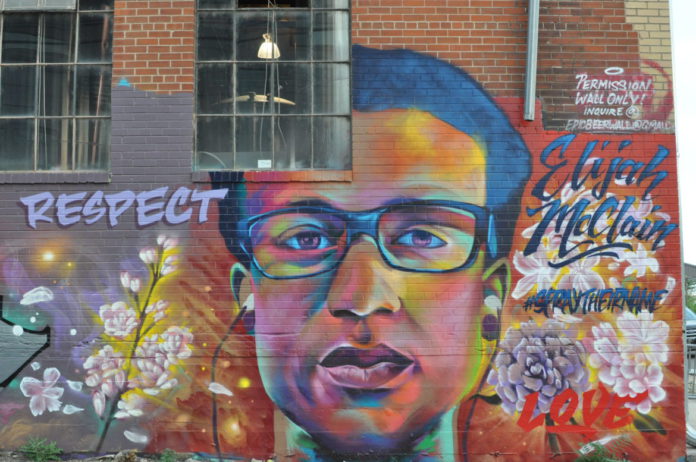 A grand jury indicted five first responders involved in the 2019 death of Elijah McClain with 32 counts, Colorado Attorney General Phil Weiser announced on Sept. 1. 
Aurora police officers Nathan Woodyard and Randy Roedema, former Aurora officer Jason Rosenblatt and Aurora Fire Rescue paramedics Jeremy Cooper and Peter Cichuniec each face one count of manslaughter and one count of criminally negligent homicide for their involvement in McClain's death.
On Aug. 24 2019, McClain was stopped while walking home from work by Aurora police who received a call about a "sketchy man" wearing a ski mask. Police body camera footage from that night show the responding officers restrained McClain in a carotid hold before Aurora Fire Rescue paramedics injected him with 500 mg of ketamine in an ambulance. As previously reported by Law Week, an independent investigation found the responding paramedics were not justified in administering ketamine. McClain went into cardiac arrest and was declared brain-dead on Aug. 27 while hospitalized. He died three days later at age 23. 
Additionally, Officers Roedema and Rosenblatt each face one count of second-degree assault with intent to cause bodily injury and one count of a crime of violence related to the bodily injury charge. Paramedics Cooper and Cichuniec each face one count of second-degree assault to cause bodily injury; one count of second-degree assault for recklessly causing serious bodily injury by means of a deadly weapon, ketamine; one count of second-degree assault for a purpose other than lawful medical or therapeutic treatment intentionally causing stupor, unconsciousness or other physical or mental impairment or injury by administering a drug without consent, ketamine; and two counts of crimes of violence for each of the assault charges.
"At this moment, my department is filing the indictment in Adams County court," Weiser announced. Weiser emphasized that the jury indictment represents a formal accusation based on probable cause and that "all defendants are presumed innocent until proven guilty beyond a reasonable doubt." 
Colorado Governor Jared Polis appointed Weiser as the case's prosecutor through a June 2020 executive order. Weiser's office chose to increase the scope and fact-finding from a previous, limited investigation. "Whenever a person dies after an encounter with law enforcement, the community deserves a thorough investigation. Mr. McClain's family deserves it and justice requires it," Weiser explained at the announcement. 
Weiser opted to call a state-wide grand jury for the indictments in order to obtain documents and compel witnesses that would not be available "through other investigative techniques," he said. The grand jury was first engaged in December 2020 and the investigation was announced on Jan. 8, 2021. 
The jury returned its findings last Thursday, Aug. 26, but the Attorney General held off public announcement to contact the individuals under investigation and McClain's family. Its findings came one day shy of the two-year anniversary of McClain's death.
McClain's death and the responding officer's behavior sparked outcry in Colorado and across the country. McClain's was one of the many stories to garner attention during Black Lives Matter protests around the nation in the summer of 2020.
In addition to Gov. Polis' June 2020 executive order to investigate McClain's death, a handful of laws and further investigations were created in response to McClain's treatment while in law enforcement custody.
Earlier this year, the Colorado General Assembly passed HB21-1251 limiting the use of forceful ketamine injections by first responders. In a previous statement to Law Week, David Lane of Killmer, Lane & Newman, the firm representing the estate of Elijah McClain, expressed his support of the law: "Ketamine played a role in his death, and he was injected and overdosed for no discernable reason. Forcibly injecting people being arrested simply at the whim of a police officer is a horrific abuse of police power."
During the Wednesday announcement, Weiser announced his office is conducting an additional civil investigation against the City of Aurora. "In a separate civil investigation, my department is looking into whether the City of Aurora, specifically Aurora Fire and Police, have a pattern and practice of violating the civil rights of their community members." Weiser said that matter is still ongoing. 
"By working to build trust in law enforcement and working to elevate what safe and effective policing looks like, we will advance public safety. And we will honor the profession's commitment to serve all Coloradans fairly and responsibly," said Weiser.