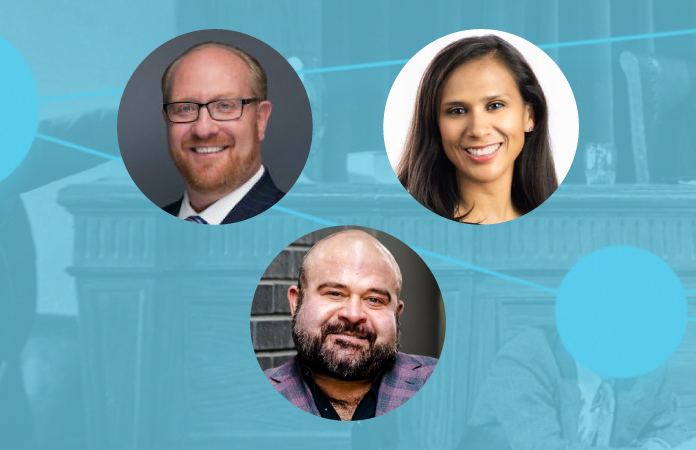 A team of local entrepreneurs spent much of the pandemic trying to solve a problem solo and small firm attorneys know too well: advertising is expensive. Their solution is NimbusMark, a newly launched advertising agency focused on serving small businesses.
"We're all entrepreneurs and we understand that it's pretty hard to spend $9,000 for one ad and put all of your year's marketing budget into one advertisement with the hope that it works — and we all know that doesn't work," said NimbusMark co-founder Meranda Vieyra. 
Vieyra, the owner of Denver Legal Marketing, is a familiar name in Colorado legal industry circles, as are NimbusMark co-founders Jay Kamlet and Jordan Deifik, who also co-founded attorney co-working space LawBank. So it's not surprising that the agency's first product, NimbusLegal, will focus on serving small and solo law firms.
NimbusLegal offers multimedia advertising campaigns centered around a simple question: Do you need a lawyer? The ads appear online, in print, and on billboards, buses, bus shelters, posters and signs. (Disclosure: Law Week Colorado is among the media outlets where ads may appear.)
Anyone who sees the ad can respond by text or scan a QR code, and will receive a link to a website. On the site, the user will answer a question about their legal needs and be directed to an attorney who practices in that area, such as trusts and estates, family law, workers' compensation and criminal defense. To avoid making advertisers compete with one another, each campaign is designed to feature only one lawyer per practice area.
The campaigns are also designed with client confidentiality in mind. "We've actually leveraged artificial intelligence and background coding so that the respondents to the campaigns are being filtered to one of our given members in those practice areas without us getting involved," Deifik said. "We don't see the data."
NimbusMark takes a "collaborative marketing" approach, which brings together multiple businesses that want to reach a similar audience. The collaboration allows small businesses to advertise at a more affordable price than they would be able to get on their own. The lowest-priced business-to-consumer campaign is $1,499 per month and brings in about 125 million impressions over the course of a year. The agency offers similarly priced B2B advertising packages for business lawyers, with print and digital ad placements focused on business publications. The $1,499 B2B package provides 135 million impressions annually.
"The pricing is meant for small businesses," Vieyra said, noting that the recommended advertising and marketing budget for a law firm is about 6.5% of gross revenue. She added that the average trusts and estates lawyer brings in about $1,500 for each will completed. "If one of those impressions converts — and we're talking about millions [of impressions] — it pays for itself each month," Vieyra said. Advertisers receive monthly tracking reports so they can assess the campaign's effectiveness.
"A lot of law firms struggle with just financing their marketing," Vieyra said. For those firms, NimbusLegal has arranged for line of credit financing through Vectra Bank. "What's nice is that the financing can be as small as six months, but it can be bigger," Vieyra said. NimbusMark won't know the details of anyone's funding, she added. "We just connect them with the banker."
While NimbusLegal is the first product to launch, the company will be expanding its advertising offerings to small businesses in other industries, including beauty, entertainment, health and wellness and residential and commercial real estate. It also plans to expand beyond Colorado to become a national agency.
"We should be rolling out to 10 to 12 markets in the U.S. within the next year," Deifik said. "That includes not only NimbusLegal but [our] five other Nimbus sub-brands."
"This really is meant to be an all-in solution for small business advertising. [We've] cracked the code on making it affordable for everyone," Vieyra said, adding that the move into other industries is "kind of a logical next step for all of us. We all have an entrepreneurial spirit, we're all small business owners."
The company takes its name from a type of cloud, and the cloud-themed naming convention extends to the agency's advertising packages. "We wanted to find something that really spoke to what we were trying to do, which is to elevate the exposure that solo and small businesses are getting," Deifik said. "It really is all about ascension," Vieyra added.