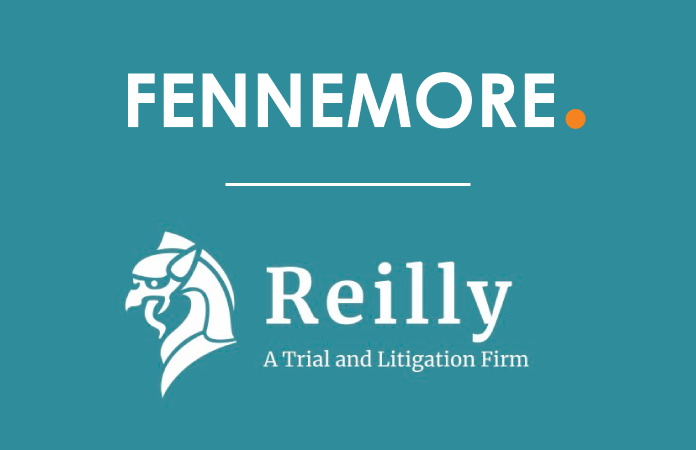 Reilly LLP, a well-recognized Denver firm, officially announced this morning that it joined Fennemore, effective Aug. 1. The two firms found a shared vision for the future of law firms and business goals leading to an addition both sides praise as a "great fit."
Reilly LLP was founded in 2000 by Dan Reilly and Larry Pozner. The litigation firm has grown to serve clients in 40 states ranging from Fortune 500 companies to the National Football League. The firm's attorneys are regularly recognized by Chambers USA, Best Lawyers in America and Law Week Colorado.
"There's a time for everything," Reilly told Law Week about the move. He said that this move is a great fit for the future of his firm staff, offering new options to clients and to expand the Denver office — shared goals of both firms.
The attorneys at Reilly LLP, along with the professional staff, joined Fennemore's over 175 attorneys and 170 legal professionals across America. Fennemore Craig was founded in 1885 and has grown to become an NLJ250 full-service business law firm with offices dotting Arizona, Colorado, California and Nevada. The firm was ranked as the top listed law firm by Best Lawyers in America this year and has practices ranging from agribusiness to government relations and regulatory and emerging business and technology.
Reilly himself made headlines with the Denver Broncos earlier this year while serving as lead counsel, defending the trustees of the Patrick Bowlen Revocable Trust, in litigation over the Bowlen estate, succession of the team's ownership and control of the Broncos NFL franchise. In July, the trial court issued a public order holding that the trust was valid and enforceable, and the trustees have full and complete authority to administer the trust.
In a statement, Fennemore CEO James Goodnow said that the firm is honored to have Reilly LLP join the firm, which is part of the firm's "quest to grow and strengthen our footprint throughout the West." In a press release from the firm about the news, Fennemore called the Reilly LLP addition a "perfect fit."
"Reilly's trial orientation is both recognized and sought after nationally and was built from the ground up in Denver," Goodnow said. "We know that the combination of Reilly's exemplary reputation and Fennemore's tradition of innovation, commitment to sustained excellence and a client-focused approach that permeates our firm's culture will be a win-win."
Reilly told Law Week that this move felt very natural both for the goals of Reilly LLP and the future of his staff. "The main message the Fennemore folks gave to us about what we're doing is — 'Keep doing what you're doing,'" Reilly said, adding that Fennemore isn't trying to change Reilly LLP. 
Fennemore reached out to Reilly LLP to bring them into the firm, Reilly said. The firm had been identified by Fennemore as a positive addition to its Denver practice. "Fennemore made it very clear that they knew a lot about us, and… they really wanted [us] to join their Denver practice," he said. "That alone was impressive."
After conversations over the following months with Goodnow and hearing more about the proposed addition, Reilly said he felt it was a good fit and the addition also feels very natural. As Fennemore looks to expand their practice West, Reilly said that part of the conversations about the addition includes expanding Fennemore's practice here in Colorado.
Reilly said it had come time to figure out what the firm was going to look like in the coming 20 years. Reilly pointed to the statistics about Fennemore's growth during the pandemic, their young leadership and forward-thinking approach to the future of law firms as other factors in joining Fennemore. While these factors helped make the Fennemore fit feel right, Reilly added that an assurance that his younger staff would have a future, and could possibly become leaders in the firm future were other important factors.
Further, Fennemore offered to make Reilly and three of his colleagues, John McHugh, Clare Pennington and Michael Robertson, all equity partners in the firm. "That's an unusual commitment for a firm to make that offer," Reilly said. "That's a tremendous honor and a recognition of all the work they've done in their careers." He added that the firm's other attorneys and staff were also well taken care of.
"I wanted to make sure that we all found a place that worked for them, and not just our lawyers, but our professional staff," he said.
In addition, Reilly said he was excited about offering a full-service firm to clients, as Fennemore's expertise ranges beyond just litigation. Both firms had visions of growing practice in Denver, their office and expanding their litigation practice in the West, and joining those visions made sense. Reilly added that Fennemore's commitment to diversity, as well as their diversity practice, were encouraging factors to the Rilley LLP team.
Reilly LLP's pro bono work will continue after joining Fennemore, Reilly said. Although specific discussions about those actions have yet to take place, Reilly said.
Fennemore and Reilly LLP shared offices before the movement and Reilly expects to use the same parking space and desk for some time to come. In the future, there may be a discussion about changes to a physical location and requirements.
"I just think it's a really great fit," Reilly said.