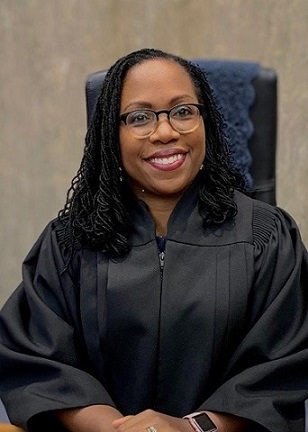 The Senate confirmed the first U.S appellate court judge of President Joe Biden's administration. The nomination of Ketanji Brown Jackson to the powerful federal court of appeals in the nation's capital was approved Monday, 53-46.
A law clerk for three judges, including Justice Stephen Breyer, Jackson was an associate at three corporate law firms and of counsel at Morrison & Foerster during her career. She served as a U.S. district judge for approximately eight years.
Three Republicans joined the chamber's Democrats in voting to confirm Jackson. They were Susan Collins of Maine, Lindsey Graham of South Carolina and Lisa Murkowski of Alaska. 
Jackson will not change the partisan makeup of the court. She replaces Merrick Garland, who resigned earlier this year to accept a position as U.S. attorney general. Garland was appointed to the bench by President Bill Clinton in 1997.
With Jackson, there will be seven judges appointed by Democratic presidents on the U.S. Court of Appeals for the District of Columbia Circuit. Republican presidents appointed four of the court's jurists. Three of the appellate judges on the tribunal are over the age of 70: George H.W. Bush appointee Karen Henderson, 76, and Clinton appointees Judith Rogers, 81 and David Tatel, 79. Tatel announced Feb. 11 that he would assume senior status once a successor is confirmed.
The D.C. Circuit's jurisdiction reaches the same cases heard by other federal appeals courts, but also includes administrative and regulatory law disputes that are not heard elsewhere. It is the only federal appeals court that can be staffed with jurists who are neither from Washington nor chosen by the President from lawyers or other judges who live in the district.
Once Jackson receives her commission from Biden, she will become the fifth Black woman to serve on a federal court of appeals.
Meanwhile, Biden announced Tuesday morning a slate of nominees for other federal courts and the local courts of Washington, D.C. Among them is Myrna Perez, the director of the Voting Rights and Elections Program at the Brennan Center for Justice at the New York University School of Law and former Civil Rights Fellow at Relman, Dane & Colfax. Perez, a lecturer at Columbia Law School and former Presidential Management Fellow, would serve on the 2nd U.S. Circuit Court of Appeals if confirmed. 
Biden also nominated three candidates to be U.S. district judges in Connecticut. They are Sarah Merriam, a former assistant federal public defender; Sarala Nagala, an assistant U.S. attorney and former Munger, Tolles & Olson associate; and state court judge Omar Williams. 
The president nominated Jia Cob, a plaintiff's civil rights lawyer in Washington, to replace Jackson on the federal trial court in the district.