The Colorado Supreme Court had a big year. The court released about 75 opinions during the 2020-2021 term, all while navigating a pandemic, remote hearings, a new face on the bench and a scandal that rocked the judicial branch. Attorneys talked to Law Week about the biggest decisions, trends and developments.
The Colorado Supreme Court decided several high-profile cases involving top government officials during its 2020-2021 term, but those weren't the only cases of note. Over the past year, the high court clarified questions dealing with domestic relations, employment, governmental immunity, expert opinions and even DUIs that will affect the lives of Coloradans.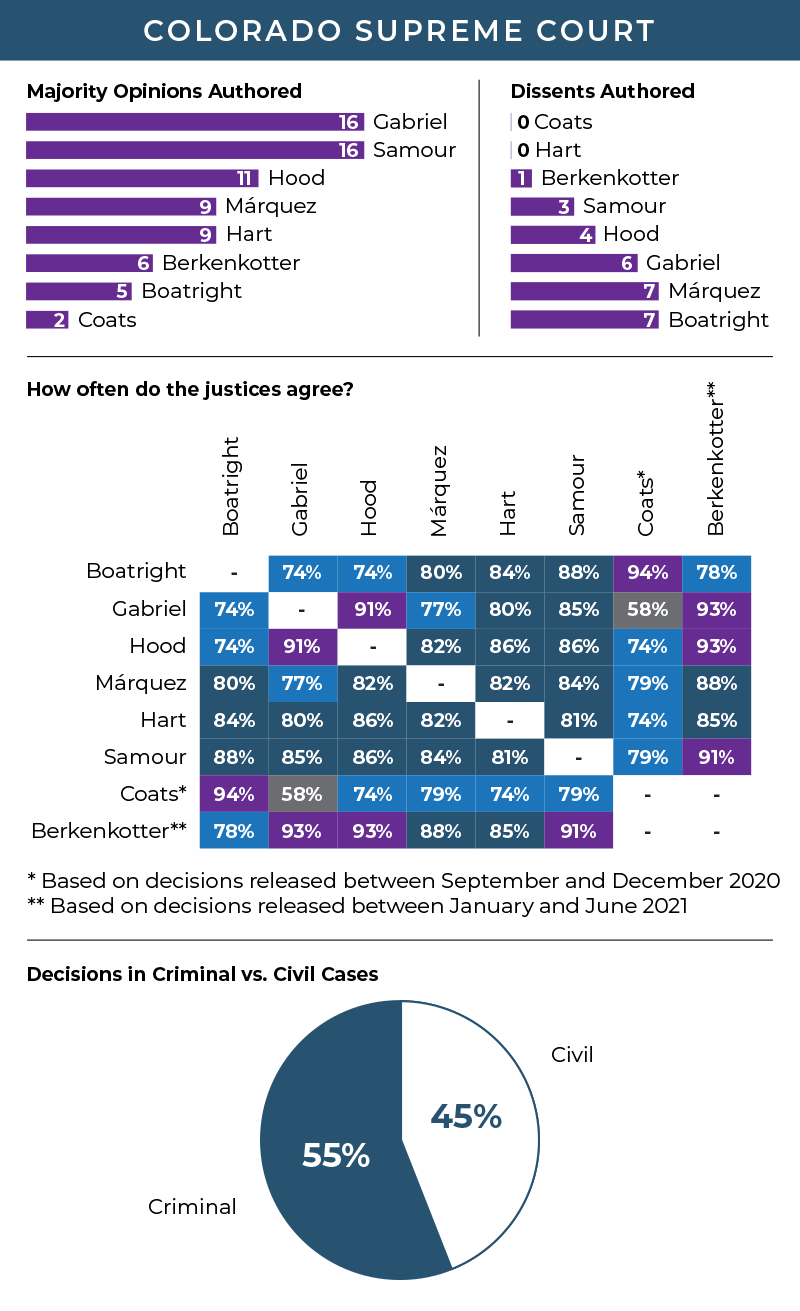 Cases involving families and children yielded important decisions this term. A trio of cases decided in January resulted in an update to Colorado's test for establishing a common law marriage. Two of the cases, Marriage of Hogsett and Marriage of LaFleur, involved relationships between same-sex partners who split before the U.S. Supreme Court's 2015 Obergefell decision, which made same-sex marriage legal throughout the U.S.
The justices agreed the old common-law marriage test, which weighed factors such as shared surnames, joint tax returns and childrearing arrangements, was outdated and didn't reflect the realities of same-sex couples or changing norms around marriage. Under the refined test, courts should also consider evidence such as joint bills or leases, joint estate planning or the parties' beliefs about marriage when determining whether a couple intended to be married.
In February, the court clarified the requirements for excluding property from the marital estate. In a pair of cases, Marriage of Zander and Marriage of Blaine, the justices concluded that property may only be excluded through a "valid agreement" that complies with state laws on premarital and marital agreements. Valid agreements must be in writing and signed, among other requirements.
"Family law cases affect a lot of Coloradans," said Ruth Moore, an attorney at Moore Williams and Richards Carrington.  "A lot of times, people aren't represented by counsel, so these end up having to be super crystal clear in terms of setting up the rules, because there are going to be a lot of non-lawyers who need to figure out how they work."
Ruchi Kapoor of Kapoor Law + Policy highlighted People in the Interest of A.M. as a case of note in the child welfare realm. In that case, a divided panel of the Court of Appeals concluded that parental rights must not be terminated if a less drastic alternative, namely, allocation of parental rights to a relative, would "adequately" serve the child's needs. However, the Supreme Court found that this new adequacy standard was at odds with the court's prior rulings and concluded that judges should deny termination in favor of a less drastic alternative only if it is in the best interest of the child.
Another important set of civil cases, according to Moore, involved the court's interpretation of the Colorado Governmental Immunity Act. "The court in various decisions has made clear that this is a limited immunity, and the general rule in Colorado is that public entities are subject to the same liability as private entities would be," Moore said, but lower courts have tried to broaden that immunity by concluding that various claims are tort claims.
The Colorado Supreme Court clarified that claims under the Colorado Anti-Discrimination Act and the Solid Wastes Disposal Sites and Enforcement Act are not tort claims, and public entities are not immune from liability from those claims under the CGIA. The CADA cases, Elder v. Williams and Denver Health v. Houchin, were decided in December. The decision involving the SWA was issued June 7.   
"That's an important development for government accountability and for providing individuals and other entities relief against wrongs committed by the government," Moore said.
Also in June, the court issued its decision in Nieto v. Clark's Market, a closely watched employment case about "use it or lose it" vacation policies. In a unanimous decision, the justices concluded that employment agreements may not force employees to forfeit unused vacation pay when leaving a job. The decision reversed an employer-friendly ruling by the Court of Appeals and cleared up ambiguity that resulted after the Colorado Department of Labor and Employment issued guidance that conflicted with the intermediate court's decision.
In the criminal sphere, attorneys have taken note of cases involving expert witness testimony.  Moore highlighted a pair of securities fraud cases decided in May that raised questions about the admissibility of expert testimony from high-level officials when the testimony deals with the issues that are to be decided by the jury. The court grappled with the fact that "you don't want to allow an expert to invade the province of the jury," Moore said, "but at the same time, expert witnesses are authorized to provide testimony that is helpful to a jury." The court ultimately allowed the expert testimony in one case, Lawrence v. People, and denied it in the other, People v. Baker.
Kapoor said one of the most interesting issues the court has dealt with in recent years is how to distinguish between expert and lay opinion testimony. "There's been this whole line of cases about police officers being able to testify and when that crosses the line from the police officer not being qualified as an expert … to giving expert testimony on the stand," Kapoor said. The Supreme Court decided one such case in April, People v. Murphy, finding a police officer did not cross into expert opinion territory when sharing observations about a witness's body language.
"The Supreme Court just keeps walking this really fine line in terms of lay versus expert opinion testimony," Kapoor said, "and that actually might translate into civil cases as well."
Another major criminal case was Linnebur v. People, a felony DUI case decided in November. Colorado's felony DUI law targets those with at least three prior DUI convictions. The question in Linnebur was whether the three prior DUI convictions are elements of a crime that must be proved to a jury beyond a reasonable doubt, which the high court answered in the affirmative.
<<PREVIOUS: A Blockbuster Year in Public Law
NEXT: Changes in the Profession and on the Bench>>